PORTUGAL (VIDEO click)-A member of the European Union, area is approximately the size of the state of Maine at 35,000 sq. mi. and a population roughly equivalent to the state of Michigan at about 10 million. Recognition of this country goes as far back as 868, their language is Portuguese and life expectancy as of 2010 is 79.1 years. On October 5, 1910 they tossed out their Monarchy and became the Republic of Portugal we know today; with the most liberal laws in illicit drug use (click), the 6th country in Europe to allow same sex marriage (May 2010) and they drive on the right side of the road. Rather than me droning on in more facts here is a fun quiz game to Test your knowledge (click) here about Portugal.
Why do I tell you all this? I needed an introduction to my newest recipe. Sharing this recipe is a pretty good excuse to eat more dessert by honoring the formation of a country, don't you think? October 5 is just around the corner so pour a glass of Port (click), enjoy a platter of fresh local shellfish (click) and bake a Portuguese Almond Cake to enjoy the celebration. You don't have to be Portuguese to say this is yummy!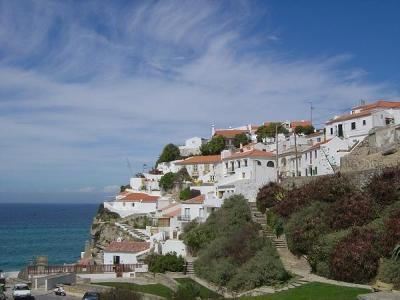 Portuguese Almond Cake
1 cup flour
1/2 tsp. baking powder
1/2 tsp. baking soda
1/4 tsp. salt
3/4 cup sugar
1 egg
1/2 cup buttermilk
1/2 tsp. vanilla
1/3 cup melted butter, cooled
2/3 cup sliced almonds, toasted
Powered sugar (optional)
Whipped cream (optional)
1-9 inch spring-form pan
Parchment paper
Almond syrup: 3/4 cup sugar, 6 Tbl. water, 1/2 tsp almond extract.
Pre-heat oven to 350 degrees.
Mix first five dry ingredients in a bowl. Toast the sliced almonds in a dry pan being very careful not to burn. In a separate bowl beat together egg, buttermilk, vanilla and melted butter. Add flour mixture to wet ingredients and do no over mix. Pour into parchment paper lined spring-form pan and bake for 25 minutes or until center of cake springs back when lightly touched.
Meanwhile, combine sugar and water in saucepan, bring to a boil and cook for about one minute (220 degrees on a candy thermometer) Remove from heat, add the almond extract. Immediately after removing cake from oven, sprinkle toasted sliced almonds over the entire top of the cake and slowly and evenly pour the almond syrup over the finished cake and let cool several hours. Optional: Sprinkle powdered sugar or a dollop of whipped cream when serving.
This recipe comes courtesy of Rosanna, who got it from Marilyn, who got it from Kathy; that killed the cat, that ate the rat that ate the malt that lay in the house that Jack built. (click)
VISIT: